Jolipet Adult Dog with Turkey & Salmon
An omega-3 rich diet for gourmands! Complete and high quality food for adult dogs, composed with university researchers. Maximum digestibility due to high quality ingredients.
Samenstelling
Jolipet Adult Dog with Turkey and Salmon contains only ingredients suitable for human consumption and no offal or residues of fruit and vegetables. Jolipet Adult Dog with Turkey and Salmon contains:
42% wholesome turkey meat, a lean, high-quality source of protein. Turkey is easily digestible and very suitable for difficult eaters. Our food does not contain any carcasses;
15% omega-3 rich, lean salmon steak, which was fished sustainably;
20% steamed potatoes, processed in puree, as a necessary source of energy;
8% lightly blanched, bright orange carrots and 6% fresh-from-the-field green peas, sources of crude fibre, natural minerals and vitamins;
4% dried potatoes, in the form of potato flakes, as a source of extra energy;
2% bright red Camarosa strawberries, source of natural vitamins and antioxidants;
1% salmon oil, to provide the ideal omega-6/-3 ratio;
1% refined rapeseed oil, to provide the ideal omega-6/-3 ratio;
1% purified minerals and vitamins, for maximum absorption in digestion, to provide, among other things, an optimal calcium/phosphorus ratio.
Thanks to our ongoing collaboration with university researchers, our recipes build on the latest scientific research into pet food.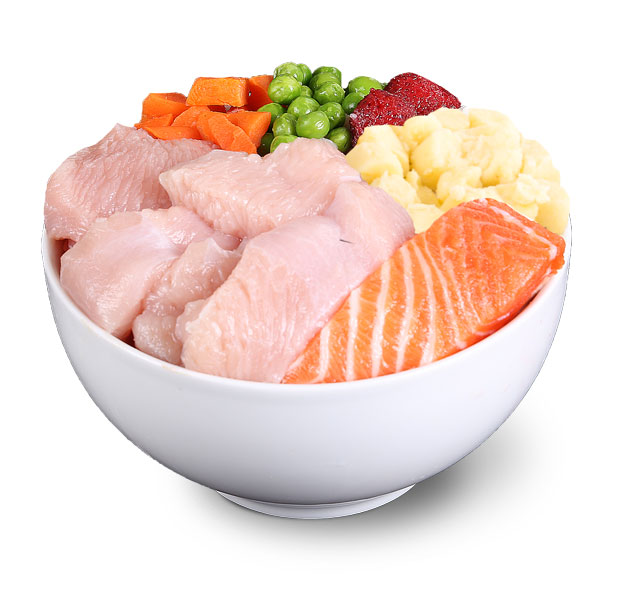 Additives per kg
Zinc sulphate monohydrate (3b605) 17 mg, Iron (II) sulphate monohydrate (3b103) 8,9 mg, Manganese (II) sulphate monohydrate (3b503) 2 mg, Copper (II) sulphate pentahydrate (3b405) 1,5 mg, Calcium iodate, anhydrous (3b202) 0,4 mg, Vitamin A (3a672a) 2282 IU, Vitamin D3 (3a671) 295 IU
In addition, our recipes contain other vitamins and minerals to maximally meet your pet's needs.
Nutritional advice
Recommended daily allowance, in grams per day (nuggets of 25g per day), ideally divided into two or three servings.
Target weight1
Daily recommended serving
1 kg
60 g

(2 nuggets)

2,5 kg
110 g

(4 nuggets)

5 kg
190 g

(8 nuggets)

10 kg
310 g

(12 nuggets)

15 kg
420 g

(17 nuggets)

20 kg
520 g

(21 nuggets)

30 kg
710 g

(28 nuggets)

50 kg
1040 g

(42 nuggets)
Number in parentheses indicates the number of nuggets of 25 g.
These recommended daily allowances are only a guideline as the needs of pets vary. Therefore, adjust the feeding amount to maintain the ideal body weight.
This guideline also assumes that your pet eats nothing other than this food. In case your pet would get snacks or other food on a daily basis, you should revise the recommended daily allowance downwards.
1 Your dog's target weight is his ideal weight (score 4-5 in body condition system, meaning15-25% body fat in Hill's healthy weight protocol), meaning ribs easily felt without fat being detected, waist clearly visible at the back of the ribs in top view, abdominal belt clearly visible in side view.
User manual
Jolipet can be served raw (completely thawed in fridge or oven) or heated (in oven or pan).
If served raw, two options:
Completely defrost in the fridge. Usually a thawing time of 12 hours can be assumed. In other words: take it out of the freezer in the morning and put it in the fridge to serve in the evening; take it out of the freezer in the evening and put it in the fridge to serve the next morning. Never defrost at room temperature.

or

Completely defrost in the

oven

. The time needed to defrost depends on the type of oven and the quantity to be defrosted. Ideally, the food should be thawed in a hot air oven at a low temperature (50°C), just as you would thaw meat. At 50°C it takes about 10 minutes to defrost 200g.

If served heated:

Fry in the

pan

, straight from the freezer, like one would fry hamburgers.

or

Fully warm up in the

oven

. The time needed to heat up depends on the type of oven and the quantity to be heated up. Ideally the food should be warmed up in a hot air oven at a low temperature of about 70°C. At 70° it takes about 20 minutes to heat up 200g.

Before use, mix food and allow to cool (if heated). Always provide fresh drinking water.

Never change the food of your companion animal at once, but gradually increase the dose of the new food.

Freshfrozen food is a natural, organic product that contains life. Our food should therefore be treated like all raw meat. Therefore, please take the following precautions:

Keep the cold chain after purchase at all times and put the food in the freezer as soon as possible upon returning home;
Always defrost the food in the refrigerator (approx. 12 hours) or in the hot air oven (20 min. at 70°C), never on the kitchen table;
Wash your hands before and after feeding;
Always clean the feeder afterwards with disinfectant
Throw any leftovers in the garbage can;
Never let your pet lick your face after he or she has eaten;
Always pick up excrement with a glove;
Keep small children away from raw foods.

Use as petfood only. Keep apart from food. Wash hands and clean tools, utensils and surfaces after handling this product.

If you have any further questions, please do not hesitate to contact us at info@jolipet.com.

Instructions for storage

Frozen food has the advantage of preserving the freshness of the nutrients for a long time. We assume a maximum shelf life of 18 months at -18°C, after the day of production. Therefore see the best-before date on the packaging.